Artist: Sarah Joseph-Dasent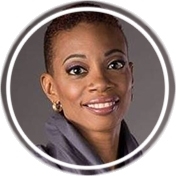 Sarah began to develop her artistic talent at an early age. She attended Holy Name Convent in Port-of-Spain, Trinidad between 1979 and 1986, where her love of art was allowed to blossom. In 1987 she was accepted to Howard University s Bachelor of Fine Arts program and graduated (Summa cum Laude) in 1991 with a degree in painting.
After taking time off to start a family, Sarah returned to Trinidad to teach art at her Alma Mater in 1994. While there, she began painting again and was pleased to submit to group exhibitions with "Women In Art", Gallery 101 and the Art Society annually between 1995-1999.
In October 2000 and November 2001 Sarah exhibited successfully at Horizon s Art Gallery, Port-of-Spain. Utilizing a mixture of water-colours and acrylic on canvas, she explored such themes as Carnival and everyday Caribbean life, celebrating the beauty of our natural environment within a semi-abstract vein.
After a seven-year stretch working in interior design and marketing, Sarah mounted her third show at Horizons Art Gallery in November 2008. Here she utilized her preferred medium of acrylic on canvas and incorporated scenes of everyday life, indigenous festivals and explored the juxtaposition between fantasy and reality.
From her exhibition in June 2014 to her showing on November 5th, 2015 in Castries, St. Lucia, Sarah s work has become more reflective of introspective themes and this is guiding her toward a more abstract expression that involves the layering of colour, creating organic transparencies, texture and form.
Over the years her work has been collected locally by private individuals and corporate clients such as Niherst, Kenson Group, Republic Bank Ltd, House of Angostura, Guardian Group and Trinidad & Tobago Defense Force as well as by clients in the USA, UK, Canada, Barbados and St. Lucia. Sarah recently exhibited in June 2016 at Horizons Art Gallery, and at the Florida International Trade and Cultural Expo in October 2016, Ft. Lauderdale, Florida. Sarah continues to work on commission and toward her next showing in 2017.